We're not currently writing any new blogs but we have years of weekly blogs from the past just waiting for YOUR EYEBALLS, so take a look!
On the Move
Wednesday, 25 February, 2015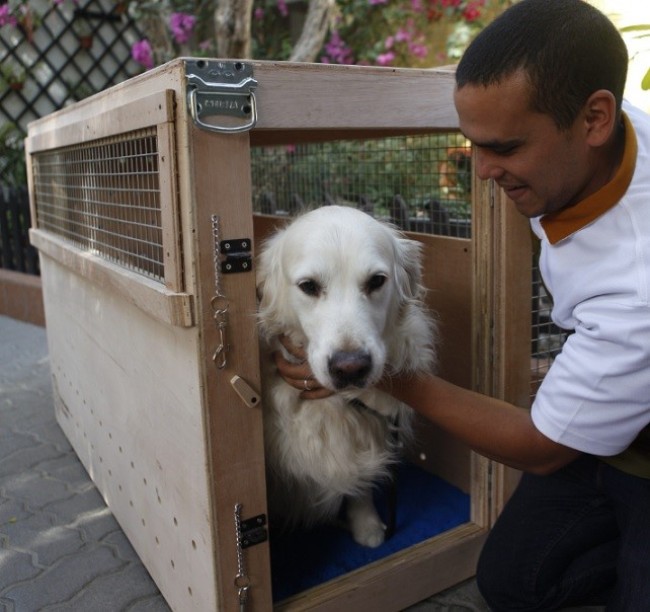 So, you're moving house. Great! Excited? A fresh new start and a good reason to clean out all the clutter that accumulates over the years! Now, you've surely set the date and confirmed the removals company and cleaners, but have you thought about how you will move your furry friends?

Moving house is widely known as one of the most stressful events in life - even for the most organized, Zen-like humans! But this event can often be just as stressful on your animals (and sometimes even more so). Things need to be planned, and we're not talking just few days out from "D-day". For some international moves, as it relates to your pets, planning needs to start MONTHS beforehand, done carefully and with service providers you can trust and are comfortable with. After all, it's your four-legged family members at stake here!
Depending on where you're travelling to, you may need to start planning as much as 6 or 7 months prior to your expected date of departure (for example, Australia); for other locations, such as Canada, planning can start very near to the date. Now, many people decide to plan and execute their pet's relocation entirely on their own, some seek a little help in on-line forums and the like, while others just give up any pretense of wanting to handle it themselves and pay for pet relocation services to handle the whole thing. The choice you make is really ultimately down to energy and money. It is certainly possible to do the whole thing yourself, so don't turn away from that idea without consideration, but it is true that it can be a lot of work and, especially for some of the more complex destinations, it can be difficult.
You see, it's not only the move itself you have to think about - it's also very much about the import regulations of the country to which you're relocating, including such things as special certificates, veterinary tests and treatments that may be required for entry. And as we indicated a moment ago, be warned that the cost of relocating your pet internationally is never cheap and often VERY expensive, even without the help of an agent (the cost of air waybills, the flight ticket for your pet, has been known to cause the occasional stopping of the heart). So save, save, save! Remember that first class ticket you were thinking of treating yourself to? Well forget it! It's economy for you and best to move your first-class cash to the savings fund for your furry friend's transport cost.
Travel boxes, by the way, are another important consideration. Although hundreds and hundreds of thousands of animals are relocated around the world every year very safely and happily, the small percentage that have a bad experience of some kind are very often victims of poor quality and/or incorrectly sized travel boxes. So take this part of it seriously because a good travel box is vital for a safe trip (https://www.dkc.ae/what-we-do/global-relocations/a-lot-about-travel-boxes). If you're spending all that money to move your much-loved family pet, it's obviously very worthwhile ensuring their travel space gives them what they need to travel comfortably… right?
Travel boxes can be pre-manufactured plastic or made-to-order wooden. They should always be well-ventilated, sturdy, have secure latches on doors and other assembled parts, and must meet the current internationally recognized IATA standards or your pet and his box may not be accepted by the airline. If you have any doubt about whether or not your pet will like being in his crate for what could be very many hours or even more than a day, it's a good idea to help him get more familiar and comfortable with it during the many weeks or months prior to the trip by having the box in the house and using it as their sleeping place or even as their play place - given a chance to think of the box as their own safe little place will go a long way towards making his actual flight a positive experience.
And that's it, right!? Well, no, not actually. There's really so much more we could talk about that if we tried to tackle all the relocation talking points, this short blog would metamorphose into a publishable novel. So, for now, suffice to say that we've touched on key things you need to think about, and now you have to think some more. BUT if you DO feel like reading more, you can right here: https://www.dkc.ae/what-we-do/global-relocations/animal-relocations-by-animal-people
Happy travels!