We're not currently writing any new blogs but we have years of weekly blogs from the past just waiting for YOUR EYEBALLS, so take a look!
Walkies Are Wonderful
Wednesday, 25 March, 2015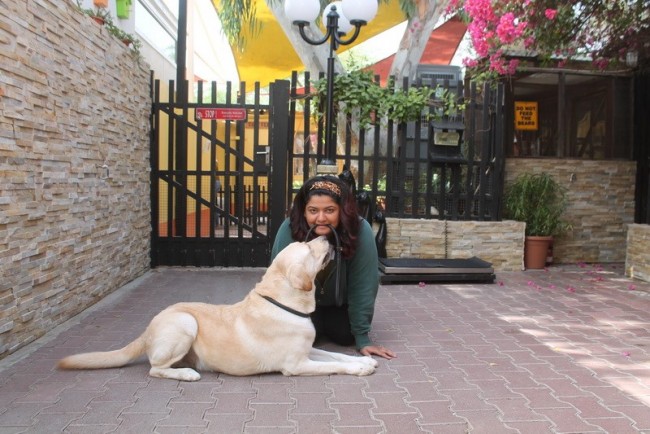 Last month's widely shared story about "man walking dog" in a Dubai parking lot gave us all much, er, paws for thought. Why? Well, because he was in his car while his Rover roved alongside. The paparazzo, lying in wait for his definitive career-making shot, said at first he thought the dog was a bear because it was so big. "It was like a dog on a treadmill.", he added.
There are a number of possible responses to this story, two of which might be: "Hmm, walk my dog without getting out the car. Nice!" or simply, "That's outrageous!" Either way, and more seriously, folks, this Lazy-Person-of-the-Day approach is not to be encouraged (as if you needed to be told that, right?). This said, let's look at the positives (don't say we don't give credit where credit's due):
Lazy Man had Rover on a leash.
He was only driving at about 3kmph.
He was exercising his dog.
The negatives:
The dog was so overweight it looked like a bear.
It's very dangerous for your dog. Obviously.
It's illegal. Obviously.
Let's be honest about dog walking. No matter how much you love your dog, there are days when you really don't feel like taking Spot out for a stroll, and that's fine. But you've still gotta do it! Right?! It's part of the pet owner's pact, and here's why:
Exercising your dog helps to keephim healthy.
He burns off excess energy, making him less likely to be "difficult" in yourhome.
The outside sights and smells are stimulating. (Don't we ALL just think so!?)
Contact with other dogs helps to socialise him.
Walking allows your dog to get into a pooping routine. (We LOVE pooping routines!)
It's a good opportunity to train your dog.
He'll love you even more for it.
And what about you? If you sometimes struggle to find dog-walking time, here are some tips for dog walking to incentivise you to latch your loved one on to his leash and get out there:
Routine - not to be sniffed at. If you stick to an early morning or evening walk every day, your body will remind you to get up and go (not to mention that wet nose nudging you into action). Dogs love routine too.
Pal-Up - Having a dog-walking pal is high on the motivation richter scale. There's nothing like someone you walk with prodding you with that metaphorical stick when your energy-levels are low. Ditto for returning the favour.
Incentives - we focus a lot on how to incentivise our pets, helping to discipline them and make their lives good, which is as it should be. But a bit of self-love doesn't go amiss either. If a cup of delicious handcrafted tall skinny iced Himalayan vanilla coffee is what sets your sail, by all means treat yourself to one. (There's probably no such thing, but you get the idea.)
Health Benefits - When you're distracted by the dishes that need doing or that last email that needs sending, keep in mind some of the health benefits of a regular walk. It's good for the heart and blood vessels, helps with weight loss, sparks creativity and increases endorphin levels, making you happier. Or at least that's what they say. :-)
Add to all this the joy of spending time with your furry best friend and the wisdom of Christopher Morley, who said. "No one... appreciates the very special genius of your conversation as a dog does."